Erasmus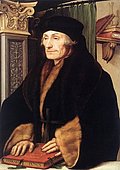 ERASMUS is the name given to the higher Education Section of the European community action programme in the field of education LLL (Long Life Learning).
The programme is named after Erasmus of Rotterdam, a philosopher, known as an opponent of dogmatism, who lived and worked in many places in Europe to expand his knowledge and gain new insights.
Under the ERASMUS scheme, students can study abroad at one of the ERASMUS partner institutions in a wide range of subject areas. Study placements can be between three and twelve months and would comprise an integral part of the degree programme.
Aims and Objectives
The overall aim of ERASMUS is to help improve the quality and relevance of education by enhancing co-operation between universities of the European Union.

ERASMUS exchange students gain valuable insights into the academic work, life and culture of another European country, as well as improving their language skills. Erasmus permits personal growth and development.

The ERASMUS programme includes activities not only for student mobility but also professors and other university teaching staff. As university teaching staff, their active participation in the activities offered plays an essential role in bringing their university closer to Europe and in bringing Europe closer to their university. This experience has an evident impact not only on the teacher directly involved, but also on students from both home and host University. It could also result in a first step towards further European cooperation.
Furthermore...
encourage efficient and multinational teaching of specialist topics which might otherwise not be taught at all, or only in a very restricted number of universities;
enable students and teachers to work together in multinational groups and so benefit from special learning and teaching conditions not available in a single institution, and to gain new perspectives on the topic being studied;
allow members of the teaching staff to exchange views on teaching content and new curricula approaches and to test teaching methods in an international classroom environment.
University of Vienna

Dr.-Karl-Lueger-Ring 1
1010 Vienna
T: +43 1 4277 46760
T: +43 1 4277 46763